In This Edition…

Featured Article – Business Owners: Are you Stuck in the Bermuda Triangle?"

Newsbreak – 360 Degree Check-up Workshop and Purposeful Planning Institute


Success Story –

Building a Revenue Foundation
Featured Article
Business Owners: Are you Stuck in the Bermuda Triangle?
By Jon Hokama, Senior Vice President
Building a top 25% quartile company is not for the weak of heart.  As a business owner, you're like the captain of a ship: It's up to you to get your ship–your business–safely and effectively to the next port. You need to know the navigational charts, the waypoints, the itinerary, the hazards and the final destination.
One hazard you face is what I would call the managerial "Bermuda Triangle." The Bermuda Triangle, also known as the Devil's Triangle, is a loosely defined region in the western part of the North Atlantic Ocean, where a number of aircraft and ships have allegedly disappeared under mysterious circumstances.
Like its nautical namesake, a managerial Bermuda Triangle is the place where a captain and his crew "disappear" when he unknowingly loses his way. They may not know they've been caught in its trap until they find they are not advancing the business the way they'd like to.
While there are many versions of the managerial Bermuda Triangle, let's define the three sides of this triangle by the traps that can afflict the captain, the officers, and the crew.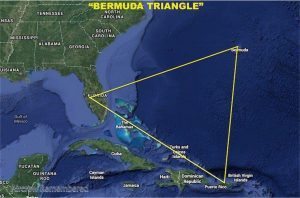 The Captain's Dilemma



Consider first the captain's dilemma. Whether he acknowledges it or not, every captain has a final destination at which he has to give up command of his ship—either by choice or by force.  At a gathering a couple of  weeks ago, former Inc. Magazine editor Bo Burlingham related an experience he had when he addressed an audience of business owners. He asked how many had exit plans. Only half of the audience raised their hands. To the rest he said, "So it looks like the rest of you have discovered the secret to eternal life."
Captains believe–or at least project—that they have the right navigational charts and can guide the ship safely "forever."   But most believe leaving their business is merely an Event—either by sale or by death. Few realize their charts are misleading them. That event actually has four specific necessary waypoints:
Educational: Learning what's involved in preparing to sell or transfer a business.
Strategic: Meeting with the appropriate professionals (CPA, valuation expert, investment banker or broker, and business advisor/exit planner) to begin the process.
The Deal: Finding the buyer and getting the transaction completed.
The Transition Out: This is the "long tail" out of the business and into something else.
Even if he charts his course well, many a captain loses his way in The Transition Out. It's a far longer and more uncertain and treacherous passage than he anticipates. When Bo Burlingham surveyed owners' satisfaction with the sale of a company, only half reported being happy with the result. So unless you, too, have the secret to eternal life, unless you carefully chart your course to encompass these four phases and navigate all of them successfully, you will leave behind a shipwreck for those you care about most—family and employees—that will need salvaging. So it's important to squarely face the captain's dilemma and set the waypoints for life beyond your business.

The Silent Mutiny
There's a mutiny brewing among your crew and you don't even know it's smoldering. There's an insidious attitude that, according to surveys Doug Tatum (author of No Man's Land) has done, more than 60% of all people have about business owners. It's based a very different definition of profit.
As captain, you think your crew believes the same thing you do:
Profit (1) is the premium above the seller's cost that a customer knowingly and willingly pays.
You believe that your crew is working to add value to the product or service your company sells.  You believe that the price your company sets reflects fair and complete disclosure of the value of that product.
So what's the nature of the mutiny? Surveys have shown that 60% of your crew and customers have a very different notion of what profit is. According to your crew,
Profit (2) is the maximum amount extracted from a customer without the buyers' knowledge or willingness.
This second definition clearly casts the captain as a deceptive and obsessed Captain Ahab relentlessly and greedily pursuing the Moby Dick of profit. This mutinous attitude reflects a jaded view of how owners and their businesses operate.
If this smoldering mutiny is ignored, it will be at the captain's peril. He will find his crew less engaged and subtly resisting attempts to guide the company since those actions may be perceived as being self-serving rather than fair or even altruistic.

Reduction in Rank
Your crew has been loyal and carried out their duties to get you to the most recent port. But you know that you haven't reached your final destination. Along the voyage you had promoted your key crew (or family members) up through the ranks. Your seaman improbably became your right hand commander. In reality, he's really at best a non-commissioned warrant officer. Now you're faced with the difficult decision of reducing his rank and breaking his spirit or limping along without the expertise you really need.
And the next leg of the journey will require better trained and more seasoned officers and more skilled crewmen to navigate the difficult passage.
Many a captain has been reluctant or unable to reduce the rank of existing officers and take onboard the right ones to get the ship safely and effectively to the next port.
But the reality is the journey may require the addition of new key persons. The existing officers may not have either the skills/experience, natural hard-wired talent or temperament to address key needs of the company as it scales up.
Owners need to assess how well the talent and skills of their managers and employees map to the demands of the current business. Like captains, they may not have the luxury of on-the-job development and may need formal leadership/management training or "demote" or move existing leaders/managers. This is especially true when your voyage demands the equivalent of navigating iceberg strewn waters or getting through doldrums in the managerial Bermuda Triangle.

Recalibrating Your Course
These are a few of the leadership challenges—managing your exit, managing your crew's expectations and perceptions, and managing the changing leadership demands of your business—that need to be on the radar of your business' course.
So plan your voyage well and don't let your ship get caught in the managerial Bermuda Triangle!
ABA Newsbreak
ABA serves the business owner community by providing workshops to help them get their firms into the top 25% of businesses in their industry.  Here are two of our upcoming events:
Providing 360 Degree Insight for Business Owners: June 29th
ABA will be participating in a 360 Degree Check-up: "Your Business and Your Life" workshop with Golden Wealth Solutions and Zarlengo Raub exit planners.  A panel of experts will address the questions business owners have to prepare for their eventual exit.  This interactive workshop will allow participants to take a self-assessment and then ask panelist to address their questions about their business and their ideal life upon exiting their business.
This workshop will be held at 7:00 am on Wednesday, June 29th at the Rolling Hills Country Club in Golden and will include a free breakfast.  If you'd like further information, contact Christine Lancaster 303-335-4217 or by email clancaster@aba.epicdevsite.info

Jon Hokama Speaking at the Purposeful Planning Institute
Jon Hokama will be one of the breakout leaders at the upcoming Purposeful Planning Institute's "Rendezvous," an interdisciplinary gathering of professional advisors sharing best practices to serve legacy families and family businesses.
Jon's working session, "How Do You Resolve 'The Founder's Dilemma?': An Interdisciplinary Collaboration" will allow CPA's, attorneys, therapists and other practitioners create new tools, insights, and relationships to add to their toolkits to serve the business owner.
For more information about the July 27-29, 2016 "Rendezvous" in Broomfield, CO, go to the Purposeful Planning Institute "Rendezvous." Or contact Christine at 303-335-4217.
Success Story
Building a Revenue Foundation: Sales Leadership, Efficiency and Effectiveness

Situation:

The owner of a services company wanted to accomplish the following objectives to grow his firm to the next level:
Increase the effectiveness of the sales team
Increase revenue to achieve the sales goal
Improve the effectiveness of the sales management and sales processes
Determine the appropriate organizational structure to allow continued growth to meet or exceed future business objectives
Action:

ABA delivered our Sales Training Program, which ranks in the top 20 Sales Training Programs in America, to train, develop and coach the current sales team to achieve the revenue goals.
ABA also provided Effective Marketing and Sales DevelopmentSM services:
to define and assess the company's current sales processes, resources, and reports in order to determine its strengths as well as needed changes to improve sales results.
to prepared a written Sales Plan including metrics to measure and track sales activity and accomplishments
to incorporate recommended changes into the sales procedures, processes, and information systems tools to support the sales plan and goals.
The client learned that the existing sales management lacked the skills to lead the sales team. ABA deployed Value Added Organization DesignSM services to assist the President with the recruitment, screening and hiring of new sales management. While the new managers were being brought up to speed, ABA provided ExecushareSM Sales management as part of delivering the Effective Sales DevelopmentSM  services to manage the sales process and develop the sales team.
Result:

As a result of rebuilding the management team and providing the hiring and training of the sales team, the President saw his firm achieve his company's sales goals. Ultimately, he was able to successfully sell his business.
Sincerely,
Robert C. Benson, President
Jon K. Y. Hokama, Senior Vice President
Dennis R. Guse, Senior Vice President
AMERICAN BUSINESS ADVISORS, INC.
www.ABAdvisors.com
The Strategic Edge newsletter is published monthly by American Business Advisors to provide business and financial planning information and ideas. All material is presented to provide general and broad information only. The information found in this publication does not constitute business, tax, financial, or legal advice and should not be acted upon without seeking the counsel of a professional advisor.  Comments and questions can be directed to Dennis Guse at DGuse@aba.epicdevsite.info.
This email is never sent unsolicited and American Business Advisors keeps all our subscribers' information strictly confidential.  You have received this special offer by voluntarily providing your email information to us personally or at our web site.
We respect your right to privacy.  If you have any questions about our Privacy Policy or this email, feel free to call us directly at 303-335-4218.  Subscribers' personal information will not be shared, sold or rented.