SHAMELESS THANKSGIVING:
Thanks for your generous gifts to St. Baldrick's Foundation!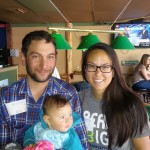 This past Saturday April 4, Grace's team raised over $1,250 to research the cancers afflicting children.
https://www.stbaldricks.org/participants/mypage/776299/2015
Last week we looked at one leadership egg that this joke hatched—
A man goes to a psychiatrist and says, "My brother has gone crazy. He thinks he's a chicken."
And the psychiatrist asks, "Have you told him he's not a chicken?"
And the man replies, "I would but we need the eggs."
We learned how to get the best from even the craziest of people we work with.
Let's hatch another leadership egg from this joke: Consider the times we feel most ready to give up. The inane voices of our critics or our competitors or government regulators or ourselves overwhelms any shred of sanity we have.
We just want to give up.
When we feel this way, we are in a situation similar to the women who are our partners or co-workers or clients. Consider the insight of comedy writer Tina Fey on the male perception that women aren't funny:
My hat goes off to [men who say that]. It is an impressively arrogant move to conclude that just because you don't like something, it is empirically not good. I don't like Chinese food, but I don't write articles trying to proving that it doesn't exist.
It's easy to succumb to the idiocy of our loudest critics, whether they be ourselves, our employees or our stakeholders. But these cacophonous sounds are often a cover-up for insecurity or an ill-formed assumption. And, most importantly, they are irrelevant!
Fey continues:
So my unsolicited advice to women in the workplace is this. When faced with ageism or sexism or lookism or really aggressive Buddhism, ask yourself the following question: "Is this person in between me and what I want to do?" [my emphasis]. If the answer is no, ignore it and move on. Your energy is better used doing your work and outpacing people that way. Then when you're in charge, don't hire the people that were jerky to you.

If the answer is yes, you have a more difficult road ahead of you. I suggest you model your strategy after the Sesame Street film piece "Over! Under! Through!"

If your boss is a jerk, try to find someone above or around your boss who is not a jerk.
What is the lesson for us male financial planners and other male business owners? We often have blind spots where we unintentionally sidetrack our female clients, employees or vendors. While we think that we are "good guys" and are not jerks, we unconsciously could be stumbling blocks for someone.
Just because I don't think I'm a jerk doesn't mean I'm not being a roadblock!
And if you're the blessed few of my readers who is never a jerk, Fey's question is equally applicable: "Is this person between me and what I want to do?" If not, then her advice go to Over! Under! Through! relentlessly is equally applicable to us males in any situation.
Toolkit:
Women(and Men): where do you need to apply Fey's advice to go Over! Under! Through!?
Men (and Women): is someone on your team being a jerk to the women on your team? (Realize that it could be my own blind spot!). What, then, could you do differently?
"Is there such a thing as an all-jerk workplace? Yes. I would flat-out avoid working with Wall Street traders or women who run the changing rooms at Filene's Basement."
—Tina Fey, Bossypants