Over the last two weeks, we've learned from the impact life purpose has in undergirding the lives of two "business" owners.
This is the time of year when successful business owners are planning for 2015. It's a great time to review how closely your own life purpose aligns with your business. But, could you imagine having a life purpose so compelling that you'd have a plan for the next 9,000 years? It would take a powerful purpose to do so!
Allow me to share with you the story of one business owner who had the kind of purposefulness that built a little start-up into a worldwide brand over 250 years later.
Our story begins in 1759 when Arthur Guinness–yes, that Guinness–signed a 9,000 year lease on an unused brewery in St. James's Gate, Dublin. It cost him £100 (about $147 US dollars) with an annual rent of £45 (about $66 US dollars)–including crucial water rights.
Water quality was so poor in 18th century Ireland that people drank alcoholic beverages instead. Drunkenness and the resultant poverty was a major social problem. Guinness heard John Wesley, founder of Methodism, preach on the power of social entrepreneurship. One of Wesley's themes was on purpose-based economic optimization:
"Earn all you can. Save all you can. Give all you can. Your wealth is evidence of a calling from God, so use your abundance for the good of mankind."
Read more at http://www.relevantmagazine.com/god/mission/features/20993-god-and-guinness#si4Prc9TQhsBFckg.99
Guinness decided to address the problem of alcoholism by developing a porter so "stout" and filling–and with lower alcohol content–that people could rarely drink more than a pint or two. As people consumed his stout, they were less inebriated.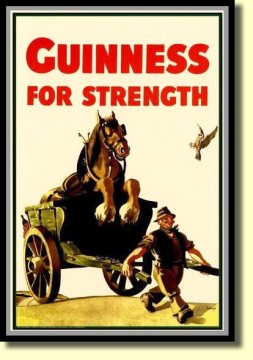 Guinness was known for paying higher wages than other breweries and using their profits to serve the poor. The brewery passed from father to son Arthur Guinness II and in turn to grandson Sir Benjamin Lee Guinness in the 1850s. Lee became a Member of Parliament for Dublin City and also served as Lord Mayor of Dublin.
In 1890 Edward Cecil is appointed the first Lord of Iveagh and established the Guinness and Iveagh Trusts to provide homes for the poor in Dublin and London. As Lord Iveagh, he also introduced faith-based reforms to the British legal system. One change was outlawing public dueling with pistols and introducing legal representation as an alternate means of settling disputes (Mt. 18:15-17). His brother Arthur landscaped St. Stephen's Green and gave it as a gift to the public.
By 1906, Guinness employed 3,240 employees at the brewery. About 10,000 people are dependent on the GUINNESS® brewery for their livelihood: 1 out of 30 people in the town of Dublin.
From Arthur Guinness on to the current descendants, the purpose of this family and the company has remained on track for the last 255 years. You can listen to the stories of some of the workers:

As you consider your plans for 2015, it's a great time to reexamine your purpose: can it withstand the test of time? Could you commit to your equivalent of a 9,000 year lease?
Toolkit:
Please share what you find most inspiring or challenging about the Guinness story in the Comment Section below.
Sources
http://www.guinness-storehouse.com/en/History.aspx#
http://www.relevantmagazine.com/god/mission/features/20993-god-and-guinness
http://www.intheworkplace.com/apps/articles/default.asp?articleid=12787&columnid=1935
For more information: http://www.amazon.com/The-Search-God-Guinness-Biography/dp/0718011333