"Listen to people in their 80s," she said. "They've stared just across the street at death for a decade. They know what's important in life."

-Patricia Lyons Simon Newman via  http://bit.ly/18puVIY
I was recently visiting my own 82-year-old Mom who's in hospice. I am with Mom (and Dad) on the penultimate liminal dimension: I stand at that doorway as she enters her final days.
While driving back to my hotel, I was distracted by NPR's interview with Scott Simon. Simon was on the other side of that same doorway at which I now stand. He was interviewed just days after his mom, former showgirl Patricia Lyon Simons Newman, died at age 84. I appreciate that he made his experience so unique and publicly accessible: he Tweeted his million-plus followers from the ICU where he kept vigil with his Mom during her final 48 hours of life.
I resumed my vigil the next day. Mom is no stranger to witticism. Being a good Nisei—second generation Japanese-American—she's the mistress of the indirect, deflected comment so illustrative of our culture. Early in our visit she said, "I don't want to keep you from anything. Go ahead and do whatever you like while you're here." When I didn't get her hint after a few minutes, she said, "I'm tired and I can sleep better if you're not here."
Mom's real legacy—in addition to my sister and me!–is her service as a church organist. (Her choice was a way to honor her parents who made tremendous sacrifices to pay for music lesson for her and my aunt during the Depression and WWII and to rebuild their lives after the Manzanar internment camp ordeal). Hundreds of parishioners and scores of brides and grooms strengthened their connection with their God while enveloped in her organ- and piano-playing.
My Dad's health has declined over last several years. I began reflecting on what a remarkable life he had, too. One of his former medical students, Dr. Aaron Morita, gave a stirring tribute to his life. Dad, as a professor of pathology at the University of Hawaii medical school, had mentored 200 medical doctors-in-training over a period of four decades. I am thankful to have inherited his mentoring gene; I, too, have spent much of my adult life as a mentor to business people, an educator and a university minister.
After this same visit, my most recent memory of Dad is not unlike my earliest memories of time spent together–enjoying a meal at a favorite restaurant. We went to Zippy's (a Hawaiian version of Denny's) and he had the beef stew, reminiscent of the stew his mother made on the Big Island of Hawaii. In memory of our earlier meals together, I had a brunch of eggs, hash browns and Hawaii's favorite meat, Spam. During lunch on another day, I had Okinawan sweet potato pie in honor of our ancestors.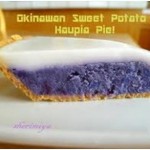 My take-a-way from this penultimate doorway? Enjoy spending time with the elders who have influenced you. This investment of time will reground you as a person…a leader…a business owner.
Share with us: Who would you spend time with if you could?
Toolkit:
Consider these questions this week:
Who are your elders you might spend time with? When will you do that?
How might you view them in a fresh light?